improved
new
Quote
Opportunities
Catalog
Improve your use of Packages in every quote while simplifying your catalog management. You are able to set a
fixed package price
regardless of the price of the products in the package, or, you can set the package price based on the total of price and labor of all the items in the package.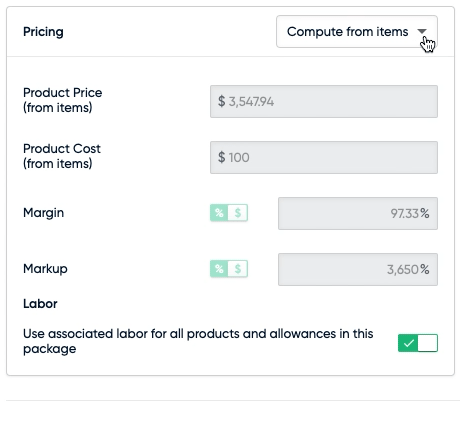 Labor Types Interface Improvements
Viewing and using labor types within a quote is now easier than ever before! Along with several key interface changes, managing labor types and labor lines items has been simplified to make writing a quote faster and easier. See the
updated article
for more information.

You now have the power to fully customize your bottom line by applying as many adjustments as you'd like to your quotes. You can display these adjustments on your proposal individually, or as a lump sum. Have adjustments that you want to apply regularly? Save them for future use to make the quoting process even faster.

Tracking project progress has been made simpler by allowing you to
view your tasks and phases
at a glance on the Projects Overview page. This can give you a better idea of how each phase's progress is going and what is coming up next.
Adding a Product to Your Catalog
The "Add Product" search bar has been removed to make adding a product to your catalog less confusing. Add a Product has replaced the New Product button. Creating a new product is still located in the dropdown portion of the button.
Plan View Image on Projects
A new shortcut has been added to easily reference your visual quote within tasks by allowing you to attach a whiteboard or plan view.
Now you can give customers more confidence in your business by displaying your
professional licenses
right on your proposals.

Catalog Modal UI Improvements
Many of the catalog modals have been standardized and tweaked to allow for a smoother and more consistent experience between pages within the catalog. In addition, Brands and Suppliers now have faster access to pricing.
Bug Fixes and Performance and UI Improvements
As with every release, we've also squashed some bugs and made some performance enhancements to keep Cloud running smoothly! Small UI improvements have been made throughout, such as the relocation of the settings icon, updates to the text editor, and others as well.